FedEx Road Safety Award
FedEx Road Safety Award
The FedEx Road Safety Award recognizes the results-oriented commitment, involvement, and willingness to learn of NGO members of the Global Alliance of NGOs for Road Safety. It recognizes the potential of road safety nongovernmental organizations and seeks to honor small, growing organizations that seize opportunities and amplify best practices in the road safety community. 
Criteria
The award is managed by the Global Alliance of NGOs for Road Safety and given to organizations that:
demonstrate outstanding commitment to road safety and/or post-crash response over a period of time
are actively involved with the Alliance and have contributed positively to advancing our mission, and
show a willingness to learn by seeking advice, applying best practices, or seeking out practices or knowledge from others. 
2019 FedEx Road Safety Award
The 2019 FedEx Road Safety Awards will be presented at the High Level Symposium held at the Six Global Meeting of Nongovernmental Organizations Advocating for Road Safety and Road Victims on 12 April 2019 , in Chania, Greece.
This year, Alliance members may nominate their fellow members for an award. To find out more and submit a nomination, click HERE.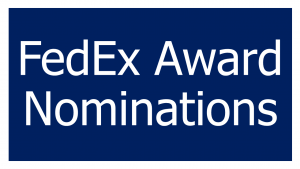 Previous Awards
The inaugural 2017 awards were presented on 6 April 2017 at the Fifth Global Meeting of Nongovernmental Organizations Advocating for Road Safety and Road Victims. The press attention that recipients received in their home countries demonstrates the value of the award.
Award Winners 2017
Safe Kids Malaysia
Safe Kids Malaysia is part of the Safe Kids Worldwide network. It provides evidence-based, practical resources to protect children from unintentional injury. Projects include walkways for children to enable safe journeys to school and helmet campaigns. Kulanthayan Mani is one of our Alliance Advocates. Read more HERE.
"Thank you Lotte and Shane for believing in us. Hopefully we can deliver well. We keep to your word to strike a gold in 2020 SDG 3.6 Olympics. We will do all we can with this four years single intervention to save children travelling on motorcycles. Praying hard to strike a medal in 2020 as we come to the end of SDG 3.6." Kulanthayan Mani
South Africans Against Drunk Driving, South Africa
South Africans Against Drunk Driving's mission is to stop drunk driving, protect families from needless deaths, and make a difference, They do this through education, victim support, alcohol and breathalyzer training, and sale of resources. Read more HERE.
"Caro Smit is very honored to have been acknowledged by FedEx and the Global Alliance. SADD will continue to grow as a road safety brand in South Africa, and across the world, and hope to be an instrumental organization in ensuring safer roads for all." SADD Spokesperson
 Alinagnon, Benin
Alinagnon trains educators and young people in road safety, undertakes road safety studies and research in Benin, advocates for safer roads, and assists road traffic victims. Read more HERE.
"Thank you for all your words of encouragement. I will do my best to give more results…All Alinagnon's team remained stunned in front of the trophy and not knowing what to say in front of this great victory that you allowed us to win." Caismir Migan
 Press Coverage
To read the press release, click HERE.
For media clips and articles about the award winners, click HERE.