Featured project
• The Light Up the Nights for Roads safety advocacy campaign was to drastically reduce crashes that occur during the hours of 7pm in the evening and – 6am at dawn all across Nigeria by mobilizing drivers to use the $4 (four dollar) safety device (a pair of 1.5 feet long reflective tapes) to promote the visibility of their vehicles in the night. • The campaign urges car owners to stick a pair of reflective tapes at the back of their cars. • The campaign targets tankers and articulated vehicles.
Project Examples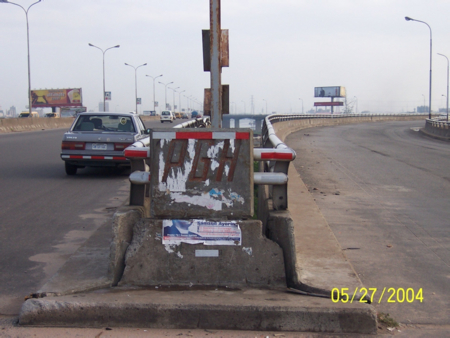 An example of a Killer spot in Lagos, Nigeria. The reflective tapes fixed on the spot reduced accidents on this spot by over 70%. Prior to our intervention effort, over 100 lives have been lost at this spot in ten years.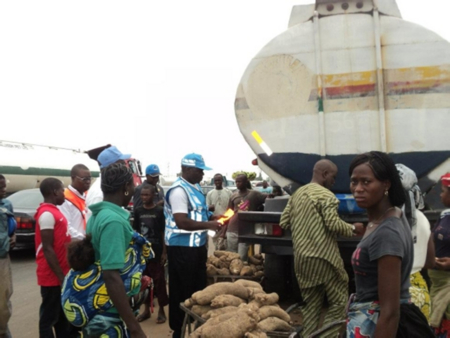 Safety Beyond Borders' Reflective Tapes Campaign. Safety Beyond Borders and the Special Marshals pasting reflective tapes on Petrol Tankers at the Taffa Tankers Park along Abuja - Kaduna road. We have pasted tapes on over 4000 tankers free of charge in the last 12 months to prevents crashes and deaths that occur at night when these tankers break down on highways. Nigeria loses about 100 lives annually to crashes of this nature.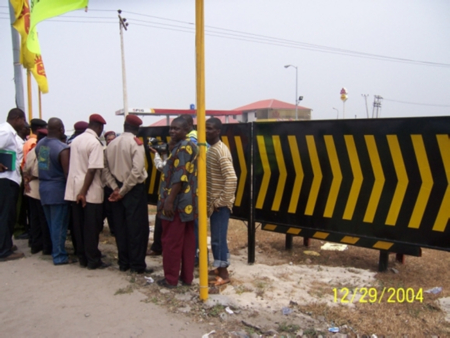 Provision Of Road Signs And Furniture.
Senior officials of the Federal roads Safety Commission, Nigeria Traffic Police and members of the public commissioning one of the several reflective chevrons erected at one of the dark spots in Nigeria to light up the nights for traffic safety. We install reflective Chevrons and road signs at strategic places not taken care of by government, to promote better visibility and help save lives. Come to think of it, the live you try to save might end up being yours.
Information
Contact
Sefety Beyond Borders
Olanrewaju - Lawrence Osho
Mr.
Abuja, Nigeria FCT 900001
Head Office: Pekky World's Suite, 2 Mambolo close, Wuse Zone 2
Lagos Office: 6 Catholic Mission Street, Lagos.
Nigeria
Phone:+2348034501557
http://www.safetybeyondborders.org

We have projects in
Nigeria
Gambia
Ghana
Nigeria
Sierra Leone
Tanzania, United Republic of
Type of road safety activities
Advocacy
Education
Infrastructure
Scientific Research
Victim Support
Our mission
To help build safer communities through active engagement in safety advocacy initiatives, encouraging new innovations that enhance safety, spreading knowledge through information sharing and networking and inspiring better performance that delivers positive results for the society from all stakeholders.