South Africans Against Drunk Driving
Featured project
South Africans Against Drunk Driving creates awareness of the Drinking then Driving/walking problem in South Africa. 18 000 people die on South African roads every year - at huge cost to families and to the economy. As an organization we not only provide counselling for affected families, we also assist with the legal processes that can be confusing and time consuming. SADD works in schools and in Universities. We offer breathalyzer training, and act as a media resource via our website.
Project Examples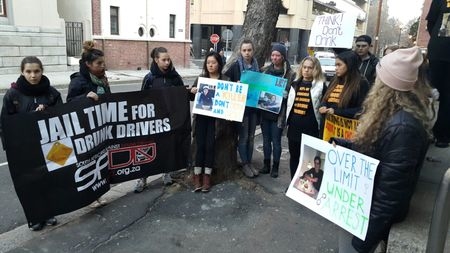 Victim Support At Court Cases
SADD offers support to victims attending court cases where loved ones have been killed or injured in alcohol-related crashes. These silent protests assist in gaining recognition for the victims, and ensuring that their rights are provided for. The support extends to providing information to use in court, as well as to giving advice and assistance during these challenging times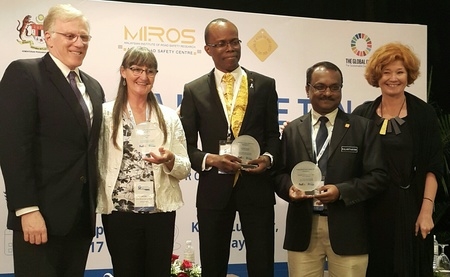 Caro Smit With Her Fedex Award, Along With Other Winners
Caro Smit of South Africans Against Drunk Driving (SADD) received this award on 6th April 2017: Kuala Lumpur) won a FedEx International Road Safety Award for SADDs contribution to road safety and high standard of work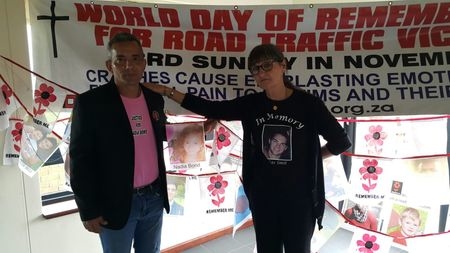 2017 World Day Of Remembrance For Road Traffic Victims
In 2017, on the 20th of November, SADD hosted the World Day of Remembrance for Road Traffic Victims in Cape Town. MEC Donald Grant, the Minister of Transport in the Western Cape, along with Professor van As, head of trauma at the Red Cross War Memorial Children's Hospital addressed the attendees. SADD continues to work towards reducing road traffic deaths and injuries, especially those involving alcohol.
Information
Contact
South Africans Against Drunk Driving
Caro Smit
Mrs
Hilton KZN 3245
Block G, The Quarry Office Park
400 Old Howick Road
South Africa
Phone:+27828213673
http://www.sadd.org.za

We have projects in
South Africa
Mozambique
Type of road safety activities
Advocacy
Education
Scientific Research
Victim Support
Our mission
South Africans Against Drunk Driving is a specialised Road Safety organization. Our mission is to stop drink driving, to protect families from needless deaths, and to make a difference.