Cambodia Movement for Health
Featured project
A. Background Heavy and aggressive advertising and promotion of alcohol encourage people to drink more and more in order to win cash, luxurious prizes and to get special discount. This glamorous advertising and promotion has attracted children and youth to start drinking in early age, increased per capital consumption and promoted drinking as part of richer and happier life. This change has been recognized as a main factor leading to drink driving crashes. Up to date, there is no-binding law or regulation in place addressing this issue. B. Objectives The long term goal is to have regulation banning alcohol advertising and promotion, which significantly reduces deaths and injuries caused by drink driving. This project seeks to build support from policy makers and general public toward the long term goal. C. Methodology Activity 2: Trainings of media reporters/journalists A trainings of media reporters/journalists was conducted. 30 reporters/journalists selected from well-known media agencies were invited to the training. A participatory method was used in the training. Participants were strongly encouraged to actively take part in the trainings by asking questions, giving comments and sharing experiences. The trained reporters/journalists have became our media network after training. They have been engaged in all related drink driving events and campaigns. A Media Monitoring System was set up to record news, stories, and the likes related to drink driving and alcohol advertising and promotion, specifying specify the topic, medium, length, date and whether the content is pro or anti drink driving. Activity 3: mobilization of support through social media The campaigns on alcohol advertising and drink driving were raised to debate in face-book. Video of the campaigns were linked to social media network. Activity 4: National Workshop on Drink Driving Two National Workshops on Drink Driving, one a year, will be organized. Relevant government ministries will be invited to the workshops. How serious drink driving is and what we can do to minimize drink driving deaths and injuries will be discussed in the workshops. Concerns and recommendations to deal with the issues will be raised by students and youth to these policy makers. The workshop recommendations may be developed from the concerns and responses during the workshops. Activity 4: Briefing meetings with policy makers The briefing meetings aim at providing them more relevant evident as well as strengthening their commitment on the issues. In smaller briefing meetings, policy makers are convenient to raise their concerns and/or difficulties more straightforward, in which CMH and the project partners are able to respond. Activity 5: Campaigns on road safety week Community parades along main roads within 4 provinces have been organized with participation of local authorities, community people, Buddhist monks and youth, carrying banners alerting public about drink driving and alcohol advertising and promotion. CMH will work with NGOs stakeholders to launch various campaigns, including Thumbnails Campaign, NGOs Recommendation Paper to urge the government to support legislation banning alcohol advertising and promotion.
Project Examples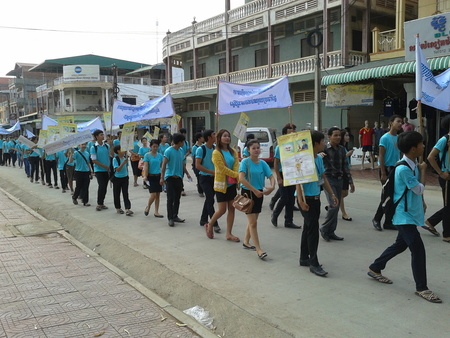 Community parade at Banteay Meanchey province to advocate for banning alcohol advertising and promotion in order to reduce number of traffic road crashes.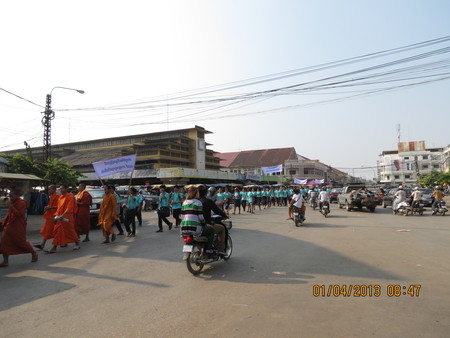 March To Support Ban Of Alcohol Advertising And Promotion
Drink driving is one of the major causes of traffic road crashes in Cambodia. Since alcohol advertising attracts more people to drink, community people were gathering together to march for support ban of alcohol advertising at Battambang province.
Information
Contact
Cambodia Movement for Health
Kong Mom

Phnom Penh 855
House 3-4B, Phlov Betong, Sangkat Stung Meanchey, Khan Meanchey

Cambodia
Phone:(855) 12 735 123
http://www.cmhcambodia.org

We have projects in
Cambodia
Cambodia
Type of road safety activities
Advocacy
Our mission
The mission statement of CMG is to mobilize Cambodian people choosing healthy lifestyle, and to advocate the government for improving people health status.