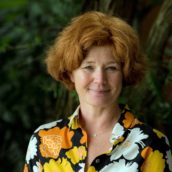 Lotte Brondum
Executive Director
Lotte Brondum started with the Global Alliance of NGOs for Road Safety Secretariat in late 2014 as it's first employee. Previously, Ms. Brondum worked in Mozambique, Zimbabwe, and Vietnam with the Danish government. She worked as an advisor on HIV/AIDS issues, and with Coca-Cola Sabco, implementing an employer's health program. She served as the Director of International Development at AIP Foundation, which is a member of the Alliance. While at AIP Foundation, Lotte was instrumental in expanding road injury and fatality-prevention programs in Asia and Africa and served a central role for developing global partnerships.
Ms. Brondum is delighted to work with such a motivated and dedicated group to ensure that the Alliance reaches its full potential as a global platform and voice for road safety NGOs. As the Decade of Action for Road Safety 2011–2020 reaches its mid-term, Ms. Brondum is dedicated to equipping NGOs with the crucial tools and information they need to advocate for key issues and develop effective programs that save lives.
Together with the Board of Directors, Lotte will implement the Alliance Strategic Plan 2014–2018, which focuses on expanding Alliance services in three key areas: networking and sharing, advocacy, and capacity building.
Ms. Brondum has a bachelor's degree in nursing science from the University of Copenhagen, advanced degrees in epidemiology from the London School of Hygiene & Tropical Medicine, and a master's degree in medical anthropology from Aarhus University. She currently lives in Copenhagen, Denmark, with her family.