Alliance Advocates are an elite group among the Alliance members who have undergone a rigorous training program and made a commitment to implementing evidence-based, SMART programs in their home countries and regions. Through individualized mentoring and training, their skills are nurtured and their expertise grows visibly as they advocate for risk areas. They are also called upon to represent the Alliance. They are role models for other Alliance members, governments, and their communities in key risk areas and will actively advocate for change and are called upon to share their expertise with fellow Alliance members. 
The Alliance Advocates are selected through a strict, competitive, bidding process from among member NGOs. Selected participants are self-starters who possess the experience, dedication, and willingness to make a change. The Alliance Advocates are a key investment for the Alliance over the years to come and the Alliance will expect a significant return of investment from this core group.
The training program ran for the first time in 2016 and the advocates trained are making a big difference in their home countries. The 2017 cohort have recently completed their training and have been released to implement their action plans. Following a review of the Alliance Empowerment Program, 2018 Alliance Advocate training is being held regionally, with the first course in Nairobi, Kenya.
Our Alliance Advocates
We are very proud of our first two cohorts of Alliance Advocates. Read about our 2016 and 2017 Alliance Advocate programs by clicking on the photos. 
Alliance Advocates 2016
Alliance Advocates 2017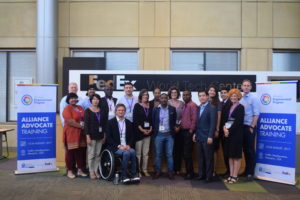 Alliance Advocates 2018