Key links
Official World Day of Remembrance Website: www.worlddayofremembrance.org 
Register your event via the WDoR website: https://worlddayofremembrance.org/submissions/
Posters
The WDoR team have produced posters that you can download for print and social media. Some versions are blank for you to add text in your own language. Click HERE to download from their website.
Publications
WHO has a guide for organizers of WDoR events. Click HERE.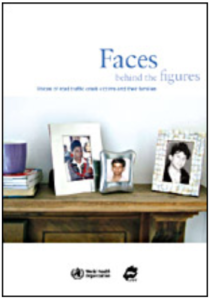 WHO and the Association for Safe International Travel (ASIRT) have jointly developed a book entitled "Faces behind the figures: voices of road traffic crash victims and their families", to put a human face on the statistics presented in the many road safety reports published around the world. Click HERE.
Multi-media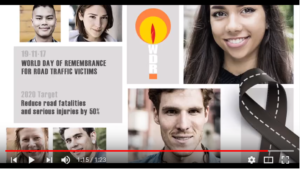 Click HERE to watch the official video produced by Fundación MAPFRE for FEVR for this year's WDoR. The video is available in English, French, Spanish, and Portuguese.
The International Road Assessment Program (iRAP) have produced a song entitled "One by One" for WDoR. Listen to the song HERE which features images from the European Federation of Road Victims (FEVR), the Irish Road Victim Association (IRVA), RoadPeace and Safer Australian Roads and Highways (SARAH), among others.
Each year, WHO publishes a message in written and video format by  Dr Etienne Krug, Chair of the UN Road Safety Collaboration. Find this year's message HERE.
Alliance Toolkit