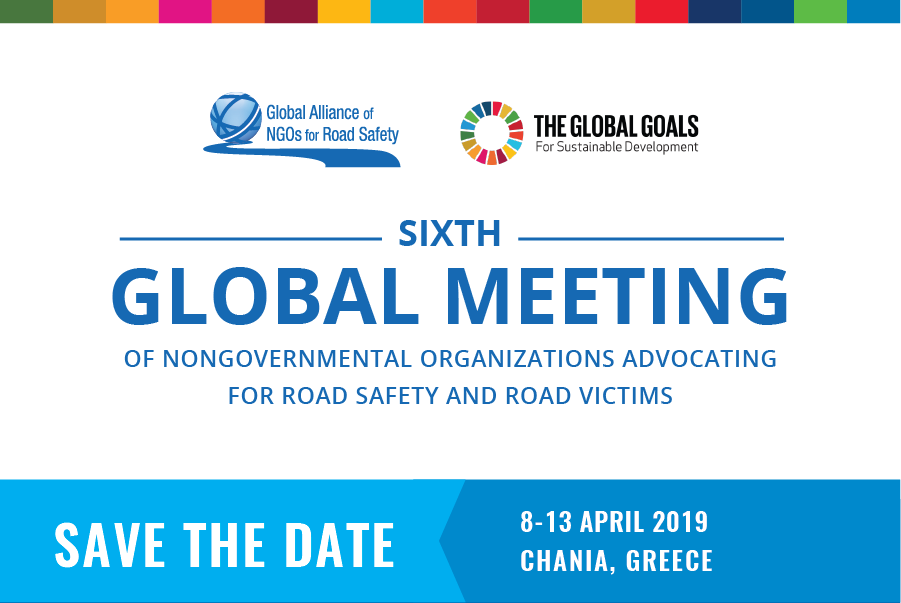 "From Global Commitment to Local Action"
The Sixth Global Meeting of Nongovernmental Organizations Advocating for Road Safety and Road Victims will take place 9–13 April 2019, at the Avra Imperial Hotel, Chania, Greece.
The Sixth Global Meeting will be the biggest gathering of road safety NGOs and stakeholders in 2019 and the most important event leading up to the end of the Decade of Action for Road Safety 2011–2020. It will feature training sessions, workshops, networking opportunities, the General Assembly, and, for the first time, a high-level symposium on road safety. The Global Meeting brings together NGOs, global road safety stakeholders, funders, and decision makers.
Key Features of the Global Meeting
9 April:

Two training sessions are offered – priority to Alliance members and limited spots available – sign up has now closed.

Behavior change campaigning. 
Introduction to assessment of safety around schools.

10–11 April:

Workshops and masterclasses, including gender and road safety, defensive driving, safe systems approach, occupational road safety, and safer, walkable, and bikeable cities.
NGO poster exhibition
Networking opportunities and regional meetings

12 April:

High-Level Symposium hosted by the Alliance and Towards Zero Foundation
Stop the Crash demonstration
FedEx Global Road Safety Awards. Read more HERE.
Photo exhibition in the Arsenali, Chania

13 April:

Preparations for UN Global Road Safety Week
Preparations for the Third Ministerial Conference on Road Safety in Sweden 2020
Breakout sessions
General Assembly
See the current draft program HERE.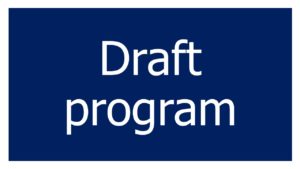 FedEx Road Safety Award
The FedEx Road Safety Award will be presented to three NGO members of the Alliance at the High-Level Symposium. Nominations have now closed and are being shortlisted.
Poster Exhibition
Alliance members will present posters of their work and/or best practice from their work, which will be displayed during the Global Meeting. Time will set aside for members to present and take questions from other delegates. Posters must be 70cm x 100cm and in portrait format. For more details, click HERE or on the button below.
Photo Exhibition
For the first time, the Global Meeting will feature a photo exhibition. It will be held at the Arsenali, Chania, Greece, during the High-Level Symposium and offers an opportunity for NGOs to publicly show the valuable work that they are doing around the world, telling a story related to the theme of "From Global Commitment to Local Action".  Submissions have now closed and are being shortlisted. NGOs whose photos will be displayed, will be notified.
General Assembly
The Fourth General Assembly will be held on 13 April 2019 during the Global Meeting. As a member organization, the Alliance is governed by bylaws agreed by all members. All members are invited. Find out more HERE.
Registration
It's not too late to register. Book your place HERE.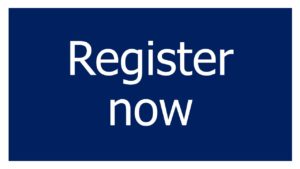 Have questions?
Read our FAQs below.
General Information
Where will the Sixth Global Meeting be held?
The meeting will be held in Chania, Greece on the island of Crete at the Avra Imperial Hotel.
I am not a member of the Alliance. Can I still come to the Global Meeting?
Yes, you can and we would love to see you there. We believe that the program we have lined up will be of great benefit to all road safety NGOs and stakeholders, not just Alliance members. There are certain benefits that are open to members only, including the opportunity to present a poster and enter the photo exhibition.
Registration and payments
Can I transfer my registration to a colleague?
No, the registration is personal and cannot be transferred.
I don't have a credit card. How can I pay the registration fee?
If you do not have a credit card, please contact globalmeeting2019@roadsafetyngos.org to arrange a wire transfer. Please note that your bank may charge a fee for this transaction. 
What is included in my registration fee?
Access to all sessions at the Sixth Global Meeting 
Access to all workshops
Access to the High-Level Symposium
Opportunity to sign up for one- and two-day training sessions, which will be held before the Global Meeting (priority to members)
I registered for the Global Meeting but now I can't go. Can I get my registration fee refunded?
Unfortunately, the registration fee is nonrefundable.
Travel and accommodation
How do I get to Chania, Greece?
You will book your own travel. We recommend that you book early to ensure the best price. Don't wait till last minute where prices tend to go up. The nearest airport is Chania (airport code CHQ). There is another international airport, Heraklion, on Crete but this is a two and a half hour drive from the hotel.
How do I get from the airport to the hotel and back?
It is easy to find a taxi at the airport, that can take you to the AVRA Imperial Hotel. The transfer is at your own arrangement and cost. 
What is the situation with accommodation?
Member organisations can apply for three nights of accommodation, Unfortunately the application has closed. The remaining will have to pay themselves or share the room and pay the extra costs. The free accommodation will be from 11-14 April as that is when we have the High-Level Symposium and our General Assembly. Non-members will need to pay for their accommodation. 
I have been notified that I will have free accommodation from the 11-14 April but I want to change the nights. Can I do that?
If you have been offered free accommodation, this is only for the dates specified (11-14 April). If you need additional nights, you will need to book these at your own expense. Please let us know if you will not use the free accommodation on any night so that we can reallocate it.
What if I am not eligible for free accommodation or I want to book extra nights?
We have negotiated a special rate with the hotel for the days of the conference. The rate is EUR 105 per night and half board (includes breakfast & lunch or Breakfast & dinner). How to find available rooms:
Click on « Booking code » on the top right corner next to « availability search »
Enter the booking code « GM2019 »
Book your room from your date of check-in wanted to your date of check out.

I tried to book the hotel for the night of the 14 April but I can't. Why is that?
Be aware the hotel is open from the 8th of April for check-in until the 14th of April for check-out. For any dates outside this week, please book at another hotel in Chania.
Do I need a visa for the Global Meeting?
You should check whether you need a visa to travel to Greece. If you require an entry visa, you must obtain it from the relevant consulate or diplomatic mission in your country of residence. Please note that requests for visas should be made well in advance of your departure for Greece. If you need an invitation letter for your visa application, the Alliance can provide this. Please email globalmeeting2019@roadsafetyngos.org to request a letter.
Training and workshops
There are two training sessions on 9 April. Can I attend both?
The training sessions on safe school zones and behavior change campaigning will run at the same time so you can only attend one of them. Sign up has now closed.
Poster and photo exhibitions
Do I need to submit my poster in advance?
You need to register that you are bringing a poster and a description by 5 March 2019. However, you can bring the poster with you when you attend the meeting.
How will I know if my poster has been approved for the poster exhibition?
There is no approval process for the poster exhibition, all members can bring one poster. You need to register that you are bringing a poster so that we can allocate you a space and include your poster in the catalog.
How will I know if my photo has been approved for the photo exhibition?
Photos will be assessed and selected by a panel. You will be notified if your photo has been selected for display.
I still have questions…
Please email globalmeeting2019@roadsafetyngos.org.